The medium-sized companies maintain the pulse of the sector and improve a 4.3%
UP TO 569 MILLONS | The sector as a whole increased its turnover by 6.2% due to the push of the 'Big Four'. Companies strengthen advisory services to improve profitability.

The audit sector as a whole improved its turnover by 6.2% in 2015, to 2,414 million euros, mainly thanks to the efforts of the four large professional services firms -Deloitte, PwC, KPMG and EY- which represent a 76% of the total income of the analysed companies. In the case of medium-sized companies, they improved their income by 4.3%, to 569 million euros.
In the sector as a whole, services such as consulting and advisory in transactions experienced double-digit growth in revenues in 2015, with an increase of 10.19% up to 665 million, and of 15.18% up to 150 million, respectively. Much more moderate was the growth in audit services still representing almost 40% in the total billing, grew by 2.84% to 963 million euros.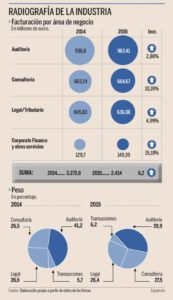 The president of the Institute of Chartered Accountants of Spain (Icjce), Mario Alonso, points out that auditing is a professional service "absolutely" linked to economic activity. During the last years of the crisis, auditing services have suffered a decline, both in the number of reports and in the turnover of the sector. All this has led to the disappearance of companies and a deteriorating situation of many others. However, last year represented a "turning point" with a slight recovery of activity, which allows to see a clear recovery for 2016.
Regarding trend, Icjce point out that professional services classified as cyclical -related with periods of bonanza- or countercyclical – present a greater development at the time of crisis in the economy-.
In recent years, debt restructuring services, refinancing processes or those in the area of bankruptcy law, have been most developed.
In recent years two fiscal years have begun to provide other services related to the positive cycle such as assistance in mergers and acquisitions; strategic consulting, operations, human resources and Information Technology (IT); or tax advice. It is foreseen in the for coming years that the services linked to an expansive process such as consulting, corporate finance, tax advice and, to a lesser extent, audit will grow.
Business Assessment
The whole sector billed a total of 2,414 million euros, which represents an increase of 6.2%.
The four large companies achieved a turnover of 1,845 million euros, a 6'8% more than the previous year.
Medium-sized companies increased their turnover by 4.3% up to 569 million.
Rebeca Arroyo. Madrid.